By. SRM Patient, Brandi Hightower
When one is enduring medical tests or procedures related to infertility, the emotional load may begin to take a toll on mental health. Suddenly, the exciting new step in your future becomes a routine. Another blood draw. Another week. Another phone call. I know because I've lived these days TTC, or trying to conceive. As a former and current patient, I have been given the opportunity to write for our fertility clinic to share our story.
Seattle Reproductive Medicine gave us the tools and the encouragement to stay the course, even when our path to motherhood was more challenging than we had anticipated.
I write this as my now-eight-month-old naps sweetly, and I can attest that time is no longer at a stand-still, as it seemed to be for years!
Amy and I had met in 2012 in my hometown of Wenatchee, and after a year of dating we would apply for our domestic partnernership (which became a marriage license when same-sex marriage became federally recognized in the U.S.).  I would spend the next couple years working as a service desk coordinator and student, her as a project manager for her company's Seattle division; after our move to the city, we began discussing children.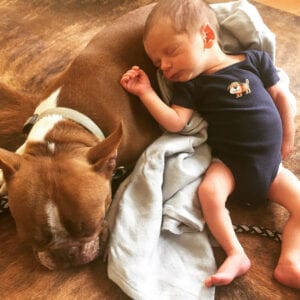 After a few consultations with nearby fertility clinics, my wife and I would meet our doctor, Lynn Davis, in 2014. She was such a breath of fresh air after feeling like "just a number" at other clinics, incredibly kind and supremely knowlegable. Her presence was warm and inviting and she treated us as if we were the only souls on the appointment book that day. We decided right then and there to become official patients, and booked our first appointment, a quick blood draw and ultrasound.
Just like that, we were on our way to becoming parents!
Eager to begin the journey, we documented our feelings on YouTube, tagging the videos with all the infertility acronyms, adding "same sex couple" and "two mom family" and a few other identifiers. Slowly, users from across the world began subscribing to and commenting on our channel, rooting with us as we awaited each next appointment.
The seasons came and went, each one with an IUI or two and even a change in "willing to be known" sperm donors. Our friends would become pregnant, and welcome their babies. Meanwhile at my house, every home pregnancy test showed the same result, despite taking them apart, changing brands, and squinting at black and white photos.
Praying for that line to appear, knowing all of my blood tests were coming back "normal". While friends would blow their adult allowances on fancy outfits and trips, we had a monthly subscription to an online sperm store, and our new activity became chart-making.
We didn't feel authentic in either camp anymore, and though we surrounded ourselves with family and friends, we were isolated.
We nearly gave up trying in 2015, thinking parenthoood wasn't in the cards for us but knowing these things take time. My wife and I remained at the clinic knowing we had chosen the right place to try for our family, and that giving up was never an option. We felt SRM was the only place that understood our frustration, and they offered support at every step, including onsite counseling services.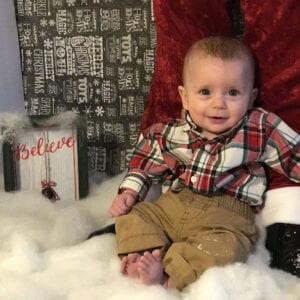 Our own relationship would continue to be challenged, and we would grow stronger as a couple, holding the hardest secret in our hearts whenever someone would ask when we'd try to have babies. "Maybe someday," I would find myself repeating, ad nauseum.
We considered going away from the IUI procedures in favor of something that would truly let us both "bring something" to the pregnancy; a reciprocal IVF cycle. We explained it to our families in the most simple terms, letting them ask any follow up questions they might want to know. "Amy's eggs. Brandi's uterus." We shared our journey as three eggs total were transferred in a period of a couple months, without a resulting pregnancy.
We were lucky to have a community that could understand our grief as we looked for answers.
This included a great medical support team behind us, as well as SRM's on-site counselor, Gretchen. Our first meeting with Dr. Davis had set the bar high, but I can attest that from our nurses to the receptionists to other doctors on staff to the embryologist, everyone we have interacted with at this clinic has gone above and beyond for us.
After watching our YouTube videos, another local same-sex couple reviewed our story and decided to reach out with a generous offer; they were willing to adopt out some of their remaining embryos to us! Four, in total. The process seemed overwhelming and emotional but our support team at SRM helped guide all of us through the process.
We are forever grateful that our journey resulted in a take home baby, and we are currently in the "two week wait" after the second of those 4 embryos was transferred earlier this week.*
Looking at my beautiful family for one moment makes every single second of fertility treatments "worth" it. Schedule a consultation to learn more about how they can help you on your own path to parenthood, and remember to be kind to yourself along the way!
Click here to learn how SRM can help you become a parent. 
Brandi is the voice behind MommaAMommaB and don't forget to check out their YouTube channel
*As of early March 2018, Brandi shared with SRM that, "we are currently 7 weeks 6 days pregnant with baby #2, whom we have nicknamed Little Bear (brother is Little Tiger)."  Congratulations!