"It's all about the people helping you along the journey."
That's how Keith Leeman describes his and Brian Mullinax's journey to becoming parents; and they had a lot of people helping them along the way!
Keith and Brian met during college at Vanderbilt University, introduced by the woman who would eventually become their egg donor! Coming from close knit families, they knew from the beginning that they wanted to have a family together; and that they would do whatever it took to make that dream become a reality.
After graduating Vanderbilt, Keith and Brian moved to Seattle and eventually took the first steps on their path to parenthood at SRM. As fate would have it, their physician –Dr. Nancy Klein – and nurse –Lindsay Canning – both attended Vanderbilt University! With the help of their egg donor, surrogate, and the SRM team, their beautiful baby girl, Madeleine, was born on March 17th. We sat down with Keith and Brian to ask them a few questions about their journey. As we began the interview, Madeleine was sitting in her "chair" (Keith's term for her car seat) with Keith slowly rocking her, happy as can be.
SRM: Have you always wanted children?
We knew when we met that we always wanted kids; but I don't think we realized how difficult it would be or that it would be such an emotional roller coaster. There were definitely a lot of ups and downs, but I think you just have to keep your eye on the prize and just get through it.
SRM: What prompted you to go the route of using a known egg donor and surrogate?
Our goal was to have a family, so we were willing to do whatever it took. We wanted our child to know where she came from, which added some humanity [to the process] and made it feel less scientific. That's the thing that surprised me the most throughout this: it's [so much] about the people who help you along the way. And it's a great story to tell Madeleine, that she was wanted so much that this many people played a part in how she got here.
SRM: How did you choose your surrogate?
We wanted someone who had had kids before, was married – so she had support if she needed it – and someone who was ok with alternative lifestyles. She answered the questions on her profile very honestly. She is the most honest, laid back person and that really caught our eye. We credit Madeleine's laid back nature to her.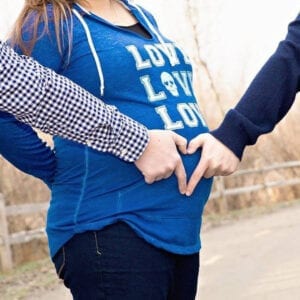 SRM: What was your relationship with the surrogate?
We flew to Idaho a few times for ultrasound appointments and also to get to know her family a little bit because we didn't want it to be a transactional type of relationship. It was really important to us that we made her feel like she was part of our family and I think it worked out great. We have a bond now that I think will go on forever. In fact, she is going to [help us have our second child, too.]
SRM: What was the worst part of the experience?
The Lawyers, the social work requirements, and the loss of control. You're totally out of control in this whole thing. You've done your part, you've given what you can give, and you just have to sit back and hope that it works out. There were times when we couldn't talk to anyone because we'd scream.
SRM: What was the best part of the experience?
I think the best things were the people that we've met who've helped us with this journey, like [SRM staff] Dr. Klein, Angela, and Lindsay. This was a really tough process with all the moving pieces and we just had great support here at SRM.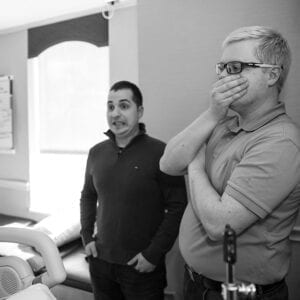 SRM: What did you do to cope with everything?
I feel like we didn't cope; we drove each other crazy. There were so many knowns and unknowns. We knew what was going on every step of the way and we knew we had X number of eggs/embryos and when it failed, we didn't know why, but we knew exactly how many chances we had left. That was really hard.
SRM: What emotions did you feel when you got the positive pregnancy test?
We were coming back from an Alaskan Cruise and had no cell service; but our surrogate was able to get through and contact us to let us know that it [the pregnancy test] is a "very faint line." We of course started researching, but our surrogate said "I feel it, this feels different this time." We got confirmation about two days later and it was so exciting!
SRM: How was your pregnancy experience?
It FLEW by! We had a little more freedom during the pregnancy, but I felt like I never had enough information. I wanted to know what foods she was craving and how she was feeling, etc. I never felt her kick or any of that—the logistics and the fact that it wasn't our body made things difficult at times.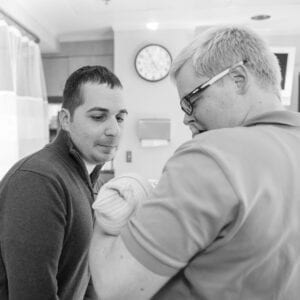 SRM: What was the birthing experience like for you?
The hospital was great – they have a great surrogacy program. She was a scheduled induction so we had a little bit of control there; and she was a St. Patrick's Day baby, so that was fun! [Our surrogate] started pushing at 4p and [Madeleine] was out at 4:45p. We had prepared for the worst but it was very uneventful. I thought it would be like [the television show] Grey's Anatomy, but everything went perfectly. It's a blur—there was so much going on after she was born that I don't remember how I got from the delivery room to the nursery.
SRM: How is it being parents? Is it harder or easier than you thought?
We've really enjoyed it so far, and I think we've learned a lesson in control going through this whole process – we just try to let things be how they're going to be. What surprised me was that I knew we had to bring a change of clothes for her, but I didn't realize we would need a change of clothes too! Our routine has changed but it's been everything we expected and more, so much more. It's so rewarding and we love her so much. I can't even remember what our life was like before her. Everything we've done has been for this reason and so worth it.
SRM: What has been your favorite moment with Madeleine so far?
Her first smile. We knew it was coming because the doctor told us she should start soon, but the first time she smiled and we KNEW she was interacting with us – that was really cool. The smiling makes the tough times better; it feels like she's giving us feedback. We're just normal parents—we just want the best for [our daughter].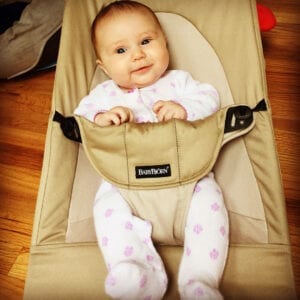 Click here to learn more about the many options available to become a parent.